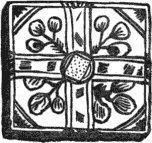 The Crafts of Ireland

Irish Crafts in the Traditional sense, as opposed to the industrial and commercial senses are integral parts of the cultural life. They are not intended to create wealth but rather to attract blessings. They do not exist to bring tourists, but to bring Saints to, and scare evil spirits from your door.

Irish crafts are the props of folklore, indicators of the season and projections of identity. Irish Crafts are also personal-things to do, and make a rhythm for the fingers and hands that links you with the ages. Go now, and make them, experience them, keep them alive.
Some Encouragement!

A Treasury of Irish Crafts

The Seasonal Crafts:


Turnip Heads
Harvest Plaits
The Parshell
Brigid's Cross
Patrick's Cross

To the Main Menu of the Irish Studies Pagers